I Received Blood
Ella-Rose's story
Auckland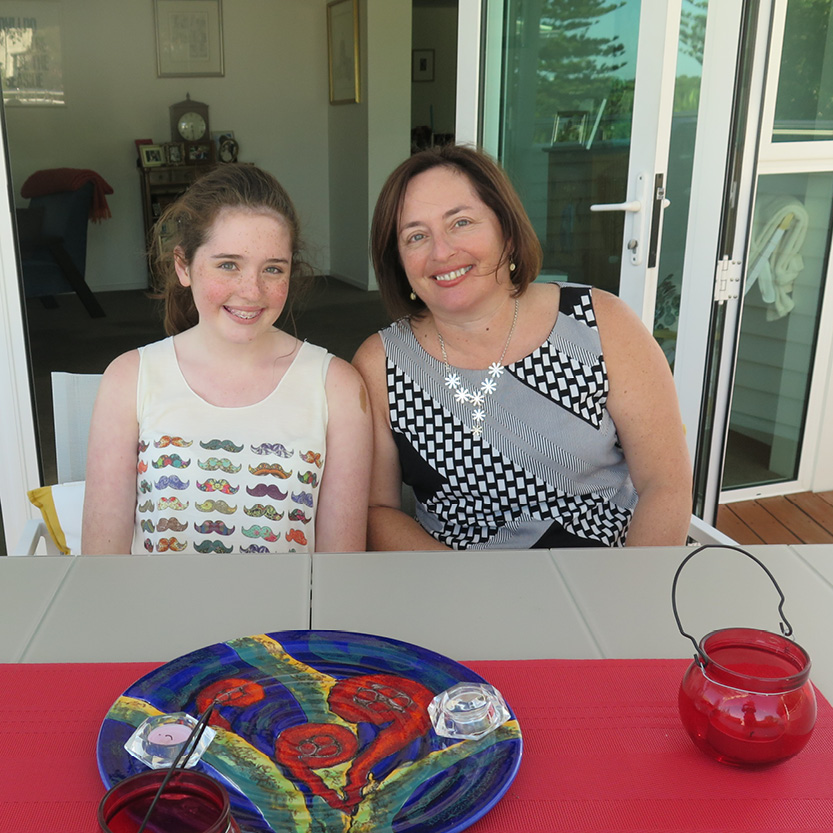 Hypogammaglobulinemia is a bit of a tongue-twister, but for teenager Ella-Rose Meagher, it's a way of life that she manages with spirit, maturity, 25mL of EVOGAM® every six days, and a good dose of humour.

Ella-Rose was diagnosed at the age of two with the immune deficiency hypogammaglobulinemia, meaning she has very low levels of antibodies. Many immune deficient patients like Ella-Rose require a regular infusion of a plasma-derived product such as EVOGAM to 'top up' their antibody concentration and boost their immune system to help fight infections.

EVOGAM is one of several blood products made from approximately 50 tonnes of plasma collected by the New Zealand Blood Service each year.

For the courageous 13-year-old, to receive EVOGAM means facing a needle every six days– no mean feat for someone who is not a fan of needles.

"I get the EVOGAM out of the fridge, prepare the needle and pump and set everything up. But it's Mum's job to put the needle into my abdomen. I can't bring myself to do that yet," says Ella-Rose.

Not one to mess about, Ella-Rose likes to get on with her day while she's being infused, which takes about an hour to complete. That means getting on with homework, eating her dinner or painting her nails.

What has it meant having an immune deficiency for Ella-Rose growing up?

"She's had multiple surgeries and is due for two more this year. She's been in hospital with pneumonia, grommets and numerous infections. Yes, she's missed quite a bit of school, but her school and teachers are very supportive and she's very good at keeping up to date with her homework," says Samantha Meagher, Ella-Rose's mother.

Ella-Rose admits it was hard when she was younger and desperately wanted to play team sports, but wasn't able to because of the risk of getting an infection.

"I used the line 'Mum won't let me' a lot. Now I'm busy with theatresports, acting and playing the trumpet so I don't feel like I'm missing out on anything,"says Ella-Rose.

Samantha adds, "What I like about EVOGAM is that it fits around Ella-Rose's life, not the other way round. We have taken EVOGAM, needles and other equipment along to restaurants, cafes and even family trips to the UK to visit the grandparents.

"We store them in a classic blue Kiwi chilly bin, which I guess is an unusual use for one - we often get funny looks at the airport. But it's great for storing the plasma product at the right temperature and it keeps everything together. We do get to skip the long queues at the airport – a small bonus I guess.

"EVOGAM has made a huge difference to my daughter's life. It means she can go on sleepovers and have late nights without always getting sick. It gives her normality – something I believe is very important for a teenager."

Passionate about giving back to the New Zealand Blood Service, and as a way of saying thank you to the thousands of regular plasma donors, Ella-Rose helped organise a blood drive in 2012 at her school ACG Parnell College and is proud of the fact that she convinced "at least one teacher and around 10 seniors" to donate blood.

"I can't wait to help organise another one this year on World Blood Donor Day on June 14. In fact in my first week back at school, I already spoke to the school nurse about it," says Ella-Rose.

"As a parent, you're not relying on medication being made in a factory – you're relying on the generosity of complete strangers to give a part of themselves to help make my daughter better. As a mother, that takes a while to get your head around," Samantha adds.

Back to stories